OK! OK! I know theses are hardly traditional recipes, But Halloween/Samhain/Day of the Dead and Hallows are evolving with each passing year. Vibrant and alive changing with the times, so a mew version of an old tradition could be a VERY Goody Thing.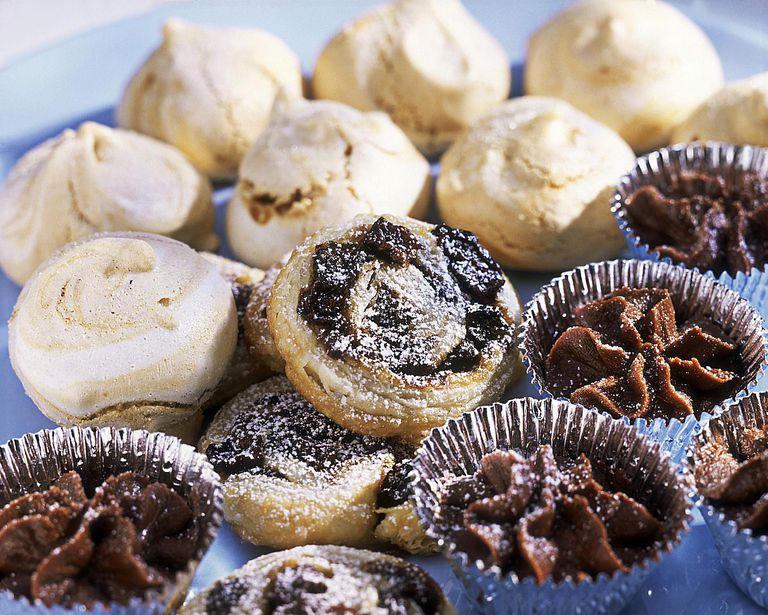 How To Make a Soul Cake for Samhain
Soul cakes were traditionally baked as a
gift for the spirits of the dead
. In many European countries, the idea of "Souling" became an
acceptable alternative for Christians
. The cakes took many different names and shapes -- in some areas, they were simple shortbread, and in others they were baked as fruit-filled tarts. Still other regions made them of rice flour. Generally, a soul cake was made with whatever grain the community had available.
Pie Crust Soul Cakes
You'll need:
A refrigerated roll-out pie crust
2 Tbs. melted butter
1 C mixed dried fruit
2 Tbs honey
Roll out the pie crust and cut it into circles. Use the circles to line a tin of muffin cups. Mix the butter, fruit and honey together. Scoop the fruit mixture into the pastry shells, and then bake for 15 minutes at 375 degrees. Allow to cool for about ten minutes before eating.
Quickie Shortbread Soul Cakes
You'll need:
1 stick of butter, softened
4 Tbs sugar
1 1/2 C flour
Cream together the butter and sugar. Use a flour sifter to add the flour to the bowl, and mix until it's smooth. Divide the dough into two parts, and shape each half into a flat circle about half an inch thick. Put them on an ungreased baking sheet (baking stones are really nice for this) and poke lines with the tines of a fork, making eight separate wedges in each cake.
Bake for 25 minutes or until light brown at 350 degrees.
Buttery Soul Cakes
You'll need:
Two sticks butter, softened
3 1/2 C flour, sifted
1 C sugar
1/2 tsp. nutmeg & saffron
1 tsp each cinnamon & allspice
2 eggs
2 tsp malt vinegar
Powdered sugar
Cut the butter into the flour with a large fork. Mix in the sugar, nutmeg, saffron, cinnamon and allspice.
Lightly beat eggs, and add to flour mixture. Add malt vinegar. Mix until you have a stiff dough. Knead for a while, then roll out until 1/4" thick. Use a floured glass to cut out 3" circles. Place on greased baking sheet and bake 25 minutes at 350 degrees. Sprinkle with powdered sugar while the cakes are still warm.
Irish Cakes
If you're a fan of Irish cooking, the folks at
Food.com have a neat story
about the history of soul cakes: "Soul cakes were the original trick-or-treat goody. Irish peasants would go door-to door on All Hallows Eve begging homeowners for food to celebrate the occasion. Soul cakes were given to them. This ensured the homeowner would be free from a curse or prank; instead, the receivers would offer prayers for them that would help them get into heaven."
You'll need:
4 C flour
1 pkt active dry yeast
1 C milk
2 Tbs butter
1/2 tsp each cinnamon & salt
3/4 C sugar
1/2 C lemon zest
1 1/4 C golden raisins
Cream yeast with 1 tsp sugar & 1 tsp milk, let it get frothy. Blend flour, spices, & salt together, then cut in butter. Add the rest of the sugar to the flour mix and blend. Add milk & beaten egg onto the yeast mixture; combine with flour mixture. Beat until stiff.
Fold in raisins and zest, cover with a damp cloth and let rise.
Divide in two, place each half in greased 7" round pan. Cover, let rise again for 30 minutes. Bake 1 hour at 400 degrees.